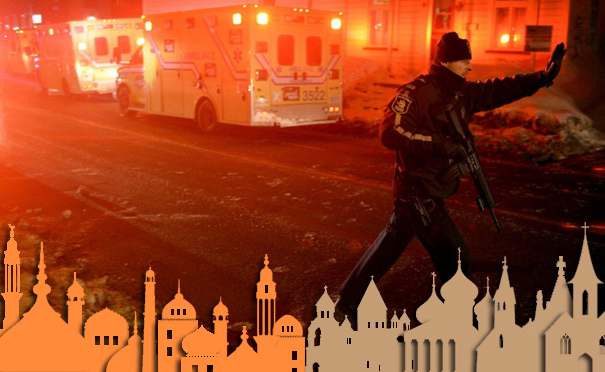 Last night two people wearing ski masks to hide their faces—bluntly put, cowards as well as terrorists—opened gunfire on worshippers in a mosque in the Sainte-Foy district of Quebec City. [Correction as of 7:00 a.m. EST January 31: Quebec police issued a statement that there was only 1 shooter.] Six people are dead and ten are wounded, five very seriously. This comes the day after American President Donald Trump decreed that people from seven mostly-Muslim countries were to be banned from entering the United States for at least the next 90 days. His speech and actions have given licence to the crazies to spew hatred and act violently towards Muslims. That this vile act on Sunday took place in Canada indicates the contagion is spreading.
It happened a hundred years ago, in reverse. At first Mehmet Talat, the powerful Minister of the Interior of the Ottoman government, condoned the anti-Christian sentiment of many of the Ottoman elite. It festered and grew, manifesting in persecution and boycotts. Eventually the violence towards Christian Ottomans—Armenians, Assyrians and Greeks—resulted in genocide.
Do you think it can't go that far in North America? That "ethnic cleansing" couldn't happen here?
As Jasper Friendly Bear of the CBC radio show Dead Dog Café used to say: "Stay calm. Be brave. Wait for the signs." The current signs aren't looking good.

Images of religious houses of worship superimosed on a photo by Pascal Ratthé/Le Soleil