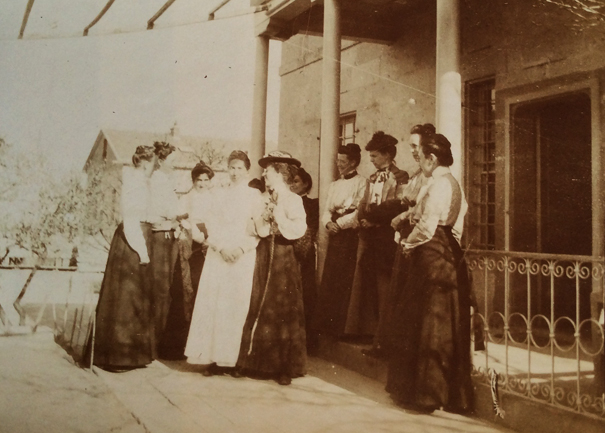 A friend gave me a fascinating book for Christmas entitled All The Single Ladies: Unmarried Women and the Rise of an Independent Nation. It is about how single women—never married, divorced, separated, and widowed—shaped contemporary American life1. However I was most interested in what the author, Rebecca Traister, had to say about the single women of "the Progressive Era", 1890-1920. It was a time that "coincided with the years in which American women were less likely to marry than ever before," she wrote, and "a moment of enormous political and social foment." Susan Wealthy Orvis, the main character in Grit and Grace in a World Gone Mad, and most of her women colleagues in Talas and throughout Turkey, epitomized the best of that era. They were single ladies who found a way to use their skills, abilities, education, interests—and religious convictions—for the greater good, by becoming foreign missionaries. But missionary work did a lot for them personally, too.
In the early 19th century, with a couple of rare exceptions, only men were missionaries. But they had a big problem: In most "heathen lands", women of the household were not allowed to be in the company of men who were not their husbands. British missionary societies started to recruit women missionaries in the 1830s to be able to reach these wives and mothers. In the United States, it was not until the retirement in 1866 of the somewhat misogynist head of the American Board, Rufus Anderson, that this enlightened activity could take place. By the turn of the 20th century, women represented over half of the American foreign mission force, and were supported by the WBM. The vast majority of these women were young, single, highly educated and members of the Congregational church.
Three Examples in Talas
Susan Wealthy Orvis was typical. She signed up with the WBMI (Interior) when she was 29. She had graduated from Iowa College (now Grinnell College) with a Bachelor of Philosophy in 1900, though her education had been interrupted a few times due to family and personal finances. She had obtained a teacher's certificate from Nebraska when she was 16, and later an advanced certificate from Iowa. All told she had about five years of teaching experience under her belt when she set sail in 1902 for Turkey to work at the Girls' Boarding School in Talas.
The school's principal, Stella Loughridge, had joined the year before when she, too, was 29. Stella had studied at Doane College in Crete, Nebraska, had taken courses at Missouri State University, and had graduated from the University of Nebraska in 1895 with a Bachelor of Arts.2 She had taught high school for six years in Lincoln before joining the WBMI. Both women were members of their local Congregational church.
Their younger colleague, Adelaide Susan Dwight, took a slightly different route. You could say that Adelaide was born into missionary work. Her father, Rev. Henry O. Dwight, was a missionary, as was her grandfather, Rev. Harrison G.O. Dwight. She was born in Constantinople, but sent to high school in Montpelier, Vermont. She graduated from Smith College in 1900, and worked for three years with the Student Volunteer Movement. Adelaide was 24 years old when she travelled with Susan to her new job as a teacher in Talas.
What They Got Out of Being a Missionary
Financial

It was a job. They got paid. Not enough to make them rich, but enough to cover their annual personal and vacation expenses, and put a little aside for their old age. Of course the single ladies weren't paid as much as their male counterparts—either married or single.

Autonomy

Each mission was headed by a man, usually an ordained minister. However, many decisions in the mission were made by committees, and since most missions had a majority of women, and most of the women were single, they had a lot of say in how the missions were run. In Talas, the Girls' Boarding School had a woman principal and all of the teachers were women.

Rewarding Work

In North America, there were few jobs available to a college educated woman. She could be a teacher, nurse or office worker. Being a doctor was a very new profession; unskilled labourers were mainly servants or factory workers. In Talas, the women were teachers and nurses, and were constantly pushing themselves to improve their roles. For example, Susan and Stella taught local women to become teachers, but realized their own lack of pedagogical knowledge when it came to teaching teachers. To remedy this, on her second furlough, which began early due to the start of WWI (1914), Susan enrolled at the University of Chicago to obtain a master's degree in religious education.

Companionship

Even though the mission had a small workforce (about 13 people in Talas), they lived, worked and often vacationed together. Their colleagues understood what they were going through, trying to cope with a strange, new world. Over the years, several missionaries turned into dear friends.

Lifelong Learning

The first thing these single ladies did upon arriving at their mission stations was to learn the language. Even though Adelaide had been born in Constantinople and attended early school there, she only knew a few words of Turkish. She, Susan and Stella studied Turkish, as they taught English, gym, and any other subjects that didn't require intricate communication with their students. Later Susan learned to speak Armenian, and some Greek. During the latter part of WWI, Susan studied Chinese (Mandarin) and French, and Stella began French lessons. The women also learned as much as they could about the various cultures of their Turkish, Armenian and Greek neighbours.

Travel

They were allowed an annual vacation, and once every seven years, a year-long furlough, usually spent at home in Canada or the United States. Susan and her colleagues were especially happy with their assignment in the Ottoman Empire, because it was the home of many of the people in the Bible. As soon as she became a missionary, Susan went to New York, took a steamship to Hamburg, Germany, explored Berlin for a few days before travelling by rail to Vienna, Budapest, and Constantinople. During her 20 years in Turkey, she saw most parts of the country. She also visited Jerusalem and Bethlehem on vacation, and Cairo, Yokohama, Peking, and Moscow on assignment.

Celebrity Status

It may seem strange now, but back then returning missionaries were celebrated. They were interviewed by the press, made the rounds of the lecture circuit, and were held in awe by their communities for the heroic deed of bringing Christianity, hygiene and educated to those who didn't live in the "civilized world." Their status was elevated into the stratosphere after 1918 when they and the relief workers faced armed conflict and risked death to provide humanitarian aid.
These remarkable "single ladies" did a considerable amount of good in their missionary role, but they also benefitted from it, too.
Currently about half of all adults in the United States are single (a record low), and 80% of young people between 18 and 29 are not married.
Technically, Stella received an A.B., from the Latin artium baccalaureus.

Photo: The "ladies" of Talas, Turkey, circa 1905, surrounding Stella Loughridge (in white); Susan Wealthy Orvis Papers, private collection.