I wrote about humanitarian aid – British style, in a previous post, and mentioned that Canadians contributed through the American-based Near East Relief (NER) effort, and as part of the British Empire. About 10% of the American Board of Commissioners for Foreign Missions were Canadian. After World War I, ABCFM missionaries in Turkey worked under the auspices of the NER, which also contracted relief workers. But Americans and Canadians weren't the only NER workers. There were Australians, too—including two particularly able nurses, Isobel Hutton and Leila Priest.
Isobel Hutton
After serving in the Australian Imperial Force in Palestine during the war, Isobel Hutton worked for the American Red Cross, and later the NER. Vicken Babkenian, writing in the Journal of the Royal Australian Historical Society (Vol. 101, Part 2, pp. 119-20), noted that the British Army had secured a former army compound in Aleppo to house approximately 6,000 Armenian refugees, and Isobel was in charge of the 125-bed hospital there. At that time, NER workers and their "native" assistants were trying to contain the numerous infectious diseases, such as typhoid, dysentery, trachoma and tuberculosis, that were a blight throughout the country. At that hospital in Aleppo, there was only Isobel and two assistants on the nursing staff. Babkenian's article included the comment of a Red Cross inspector about Isobel: "It seems impossible that one nurse could bring peace out of chaos singly and so speedily."
Leila Priest
In January 1921 Tasmanian nurse Leila Priest joined Scottish nurse Griselle McLaren and American doctor Mabel Elliott in Nicomedia. Within five months they had established the American Women's Hospital, with attached clinics, nurses' training classes, and a soup kitchen. Author and medical doctor Esther Pohl Lovejoy wrote, in Certain Samaritans, that when the Turkish Nationalist army arrived in June, most of the Christian population fled, leaving the Greek and Armenian hospital patients behind. The medical staff carried on as best they could, but by the fall, the Turks had completely taken over. Leila then accompanied Dr. Elliott and an American nurse, Mrs. Powers, to Erevan (Yerevan) in October.
As in Nicomedia, it was a high priority in Erevan to train young local women as nurses to cope with the large number of refugees needing relief. In November Mabel Elliott wrote about the difficulty in finding a building for a hospital, noting that "Miss Priest and Mrs. Power are up to their ears in work." By December, their training class was "well under way. There are 28 girls to start with. They all go to one of Mrs. Power's hospitals for an English class, and Miss Priest and Mrs. Power each have classes in nurses' courses. Then from six to eight o'clock they go to the Near East Relief night school for their lessons in ordinary studies. All these girls are from the orphanages. They are so happy in their work. It is a pleasure to see them. Miss Priest and Mrs. Power are busy getting their uniforms in order. After three months, those who pass their examinations will be capped."
An Australian Point of View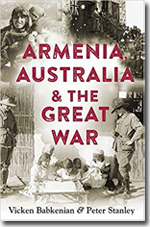 Isobel Hutton and Leila Priest were only two of the many Australians who were part of the relief effort in the region. Vicken Babkenian and Peter Stanley have recently edited a fascinating collection of stories about Australia's contribution to the humanitarian aid of that time, and documented eyewitness accounts of the Armenian Genocide by Australians. They have also included in Armenia, Australia & the Great War a section on Armenian migration to Australia, and the position of the Australian federal and state governments in recognizing the Armenian Genocide.
Even though the Near East Relief organization was US-based, and the majority of relief workers were American, it really was the first modern, international, humanitarian organization.